The three-day China's Machinery and Electronics Show (Singapore) closed today at the Marina Bay Sands Convention and Exhibition Centre in Singapore.
The picture is the self-registration area of 2023 China's Machinery and Electronics Show in Singapore. (Photo by Chen Bing)
The exhibition is jointly organized by China Chamber of Commerce for Import and Export of Machinery and Electronic Products and Singapore Chinese Chamber of Commerce & Industry, which attracted more than 10 large central enterprises including China State Construction Engineering Corporation (CSCEC), China Communications Construction Company Limited, China National Chemical Engineering Group Corporation Limited, Power Construction Corporation Of China (POWER CHINA), China Energy Engineering Group Co., Ltd. (ENERGY CHINA), and more than 130 companies including Haier, Ecovacs, JA SOLAR, LONGi, Zhejiang CHINT Electrics, Guangzhou Industrial Investment Holdings Group, Lingdu (Guangdong) and Uniorange.
There are four exhibition zones including infrastructure, home appliances and electronics, electric power and new energy, and industrial machinery in the exhibition, with a total of 431 exhibition areas and covering an area of more than 8,000 square meters. The exhibition aims to create a cooperative window to showcase China's high-end manufacturing development achievements and foreign investment, promote trade and investment among RCEP countries, and develop international cooperation in the whole industry chain.
Several Chinese provincial and municipal commerce departments organized local enterprises to attend the show and communicate with RCEP regional attended enterprises and professional buyers to learn from international advanced experience, enhance sustainable development, dock business opportunities, sign orders and expand markets.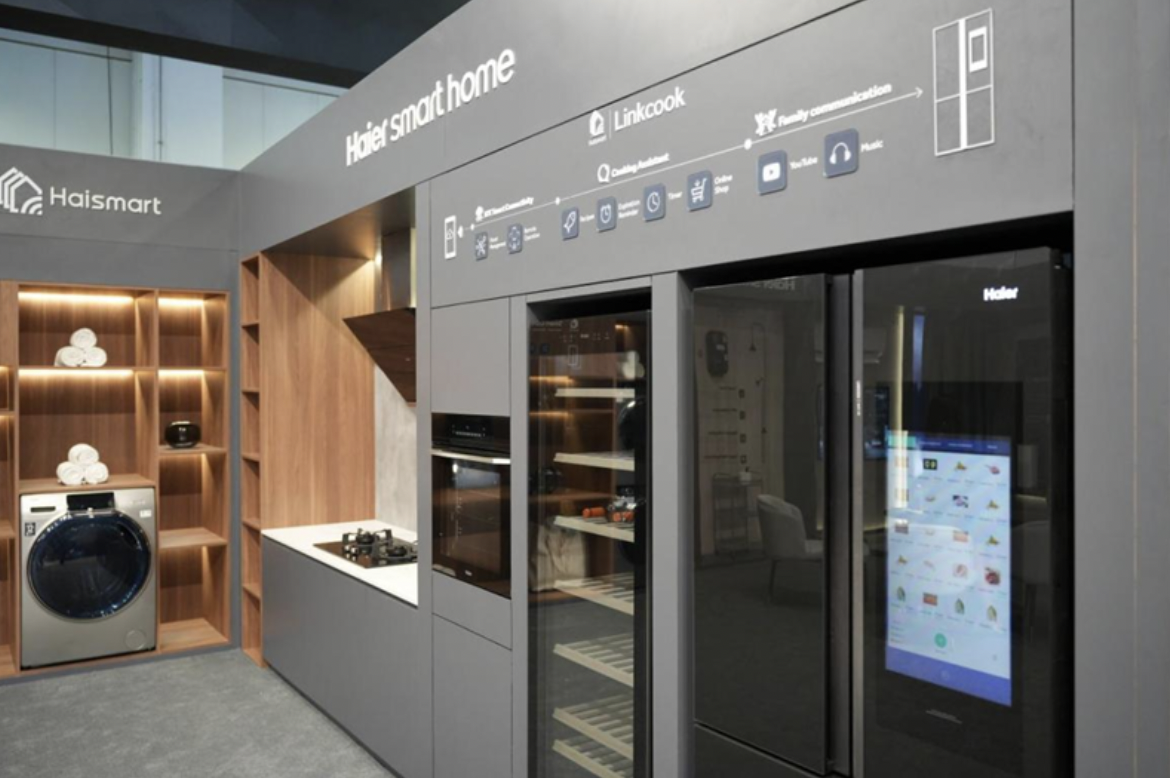 The picture is the Haier Smart Home exhibition area. (Photo by Chen Bing)
As a large province for import and export of mechanical and electrical products in China, the Department of Commerce of Shandong Province organized more than 30 exhibitors such as Haier Group, Zichai Power and Dongying Cospower, covering electronic home appliances, intelligent machinery, new energy and other fields. Haier showed the complete set of solutions for smart home, as well as the latest high-end sets of international high-end home appliance brand Casarte: Connoisseur Series and Light Year Series.
The Department of Commerce of Fujian Province organized a number of exhibitors such as NEWLAND, Fujian Star-Net communication, Able Electric (Ningde) and Skytimes Green Energy. The products covered fields like wearable devices, intelligent panels, face recognition, battery energy storage, power generation equipment, motor-driven water pump, intelligent health care.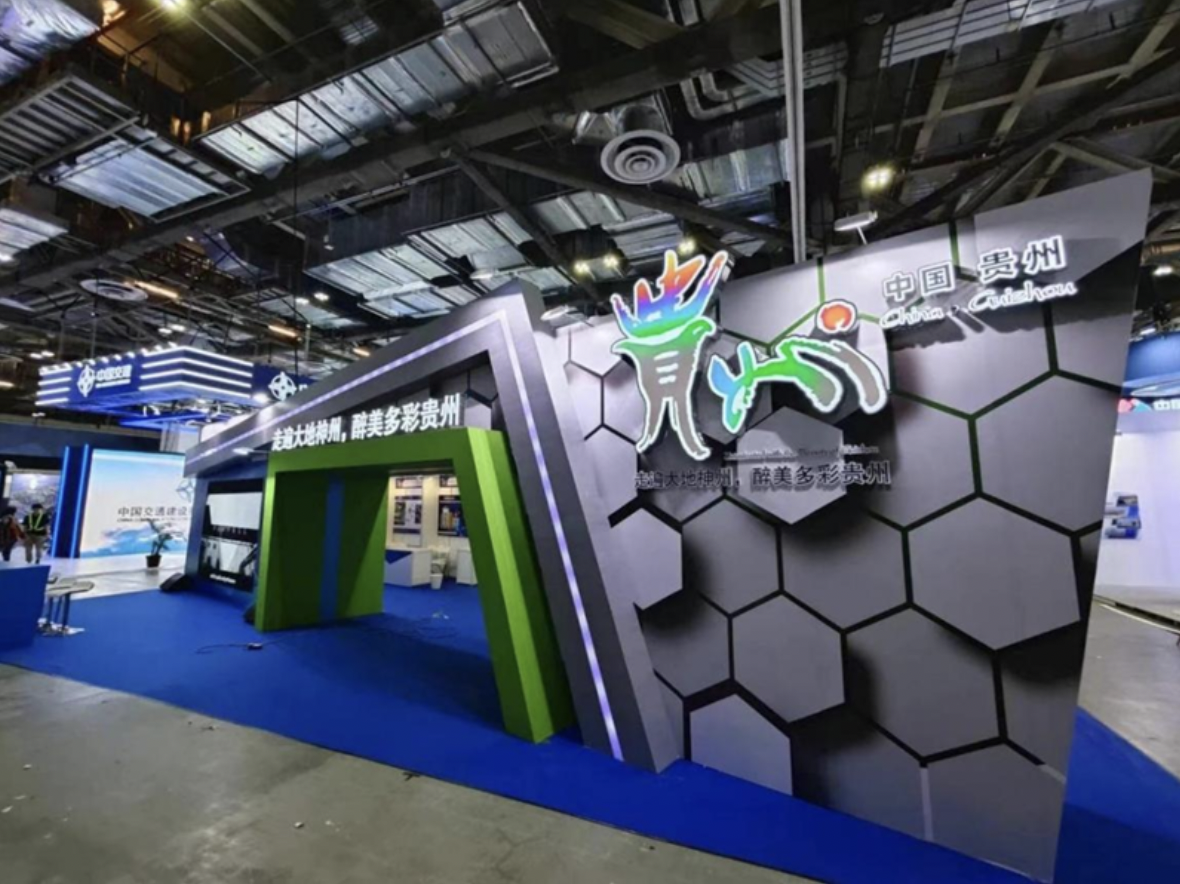 The picture shows the exhibition area of Guizhou. (Photo by Chen Bing)
The delegation of Guizhou organized 30 enterprises to participate in the show, exhibiting more than 80 categories like unmanned emergency rescue equipment, aerospace electrical and electronic components, East Digital and West Calculation Lcos chips, which deepened the mutual understanding between Guizhou and the participated countries and promoted cooperation intentions.
Henan Province's Commerce Department organized the China Railway Engineering Equipment Group, China Lucky Film Corporation, Feilong Auto Components, Wolong Electric Group and other 13 provincial backbone foreign trade enterprises gathered in Singapore, around the goal of "expand the market, grab orders, stable the share", and actively participate in various trade promotion and business docking activities.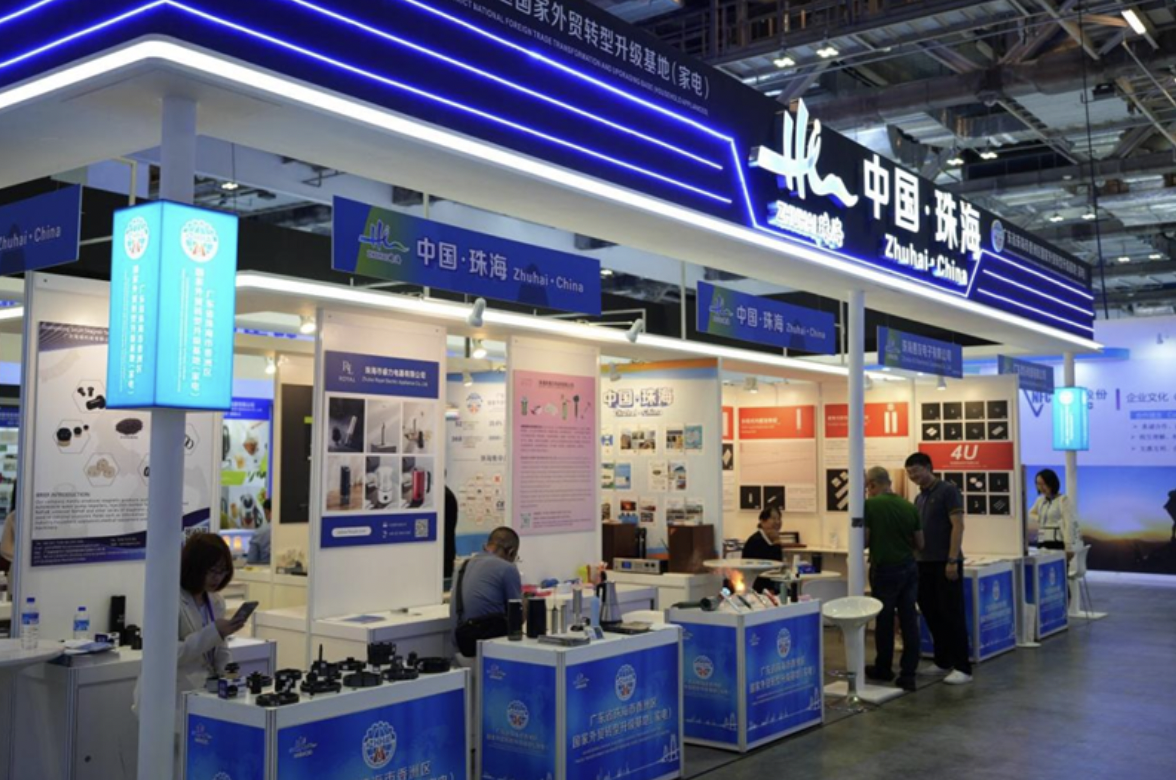 The picture shows the exhibition area in Zhuhai, Guangdong. (Chen Bing photo)
Guangdong Zhuhai organized a total of 35 enterprises with nearly 60 exhibitors to promote Zhuhai's regional brands, help enterprises to dock with overseas market resources and grab orders to stabilize foreign trade.
Zhejiang Yuyao is one of the production bases for exporting home appliances in China. Business Bureau of Yuyao City organized 11 leading home appliance enterprises such as Ningbo Fujia Industrial, Zhejiang Biyi Electric Appliance and Ningbo Haiji Electric appliance to exhibit and greatly expand overseas markets.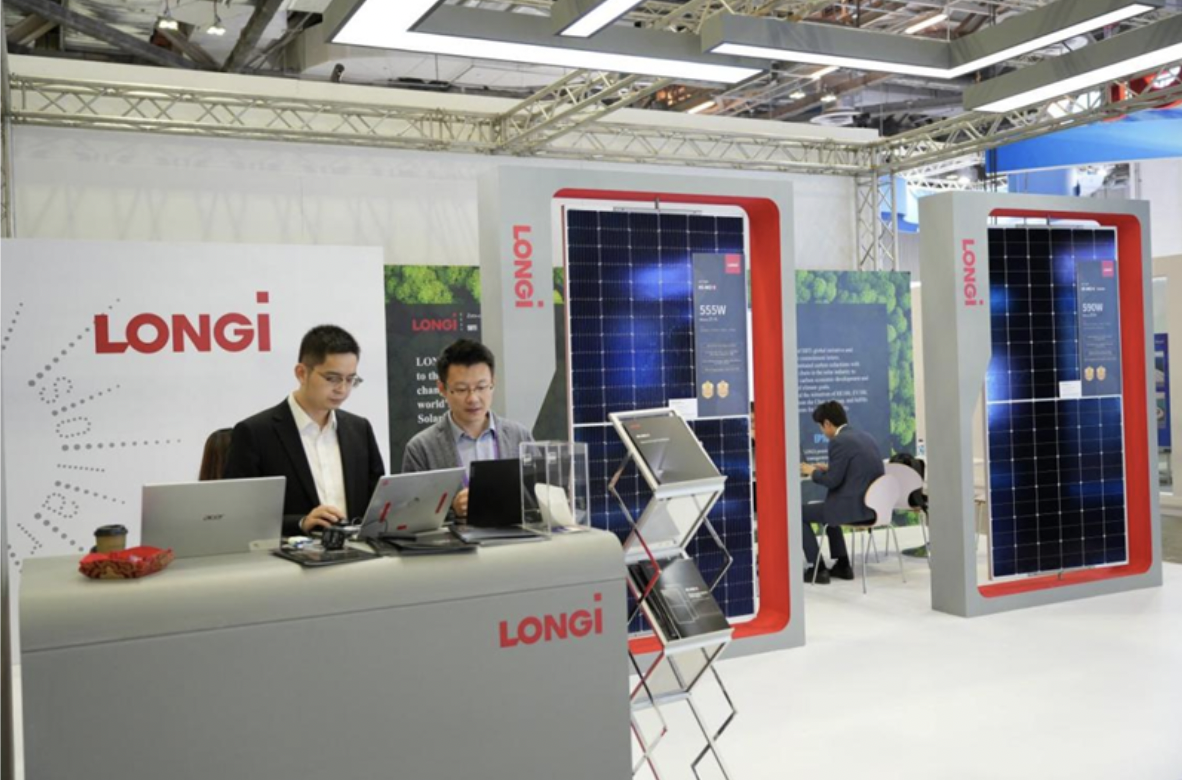 The picture shows LonGi Green Energy exhibition area. (Photo by Chen Bing)
In addition, industry leading enterprises from Beijing, Jiangsu, Guangdong, Shaanxi and other provinces and cities also brought products to the exhibition. China's leading PV company, LonGi Green Energy, exhibited Hi-MO 6, a new generation module based on high-efficiency HPBC cell technology, which is also a new generation module moving from laboratory to mass production, and is a veritable "Power Generation Tool". In recent years, JA SOLAR Technology has been actively laying out overseas markets including Southeast Asia, Australia, Central and South America, etc. And the Marina Bay Sands Convention and Exhibition Center in Singapore has used JA SOLAR Technology's high-efficiency PV modules.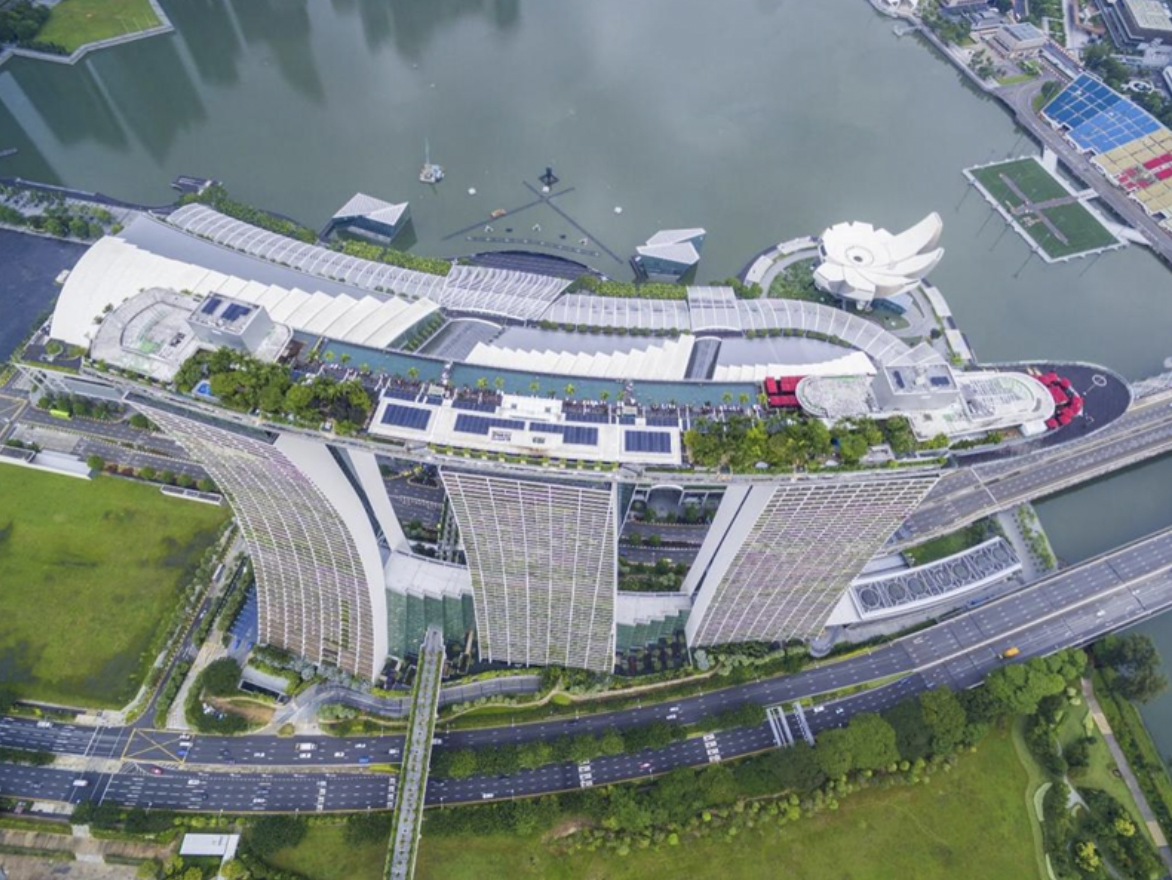 The picture is the photovoltaic module on the roof of Marina Bay Sands Convention and Exhibition Centre in Singapore. (Photo provided by the company)
Ecovacs Robotics debuted overseas with its five categories of products, including sweeping robots, window cleaning robots, air purification robots, lawn mowing robots and commercial cleaning robots. Lingdu also brought a variety of new intelligent cleaning robots, including a high-altitude plane curtain wall cleaning robot focusing on the concept of "Safer, Greener, More efficient, More energy efficient". It is understood that the product has been mass produced to the market.
Disclaimer: This article is reproduced from other media. The purpose of reprinting is to convey more information. It does not mean that this website agrees with its views and is responsible for its authenticity, and does not bear any legal responsibility. All resources on this site are collected on the Internet. The purpose of sharing is for everyone's learning and reference only. If there is copyright or intellectual property infringement, please leave us a message.